While restaurants have been leading the way in curbside pickup and delivery for decades, the retail industry has long lagged behind. Even within the world of retail, groceries were on the bottom of the list when it came to delivery demand.
Over the past few years, the demand for grocery delivery has undergone a massive boom. This uptick in demand, while initially thought to be a temporary reaction to pandemic-driven changes, has lasted beyond pandemic conditions but grown. To fully understand why the growth of grocery delivery is on an upward trajectory, let's take a look at what drove this change, what the numbers have to say about the future, and how merchants operating in the grocery industry must adapt to prepare their businesses for what's to come.
A Pandemic Driven Change
Before the COVID-19 pandemic struck, the grocery sector in the US was lagging behind other retail segments when it came to e-commerce adoption. Consumers were eager to order electronics, beauty, and apparel online, with these sectors already reaching 10-20 percent penetration rates. Meanwhile, within the grocery sector, e-commerce sales only accounted for 3% to 4% of total sales.
Customers had a lot of reservations about ordering groceries online. Concerns about high delivery fees, the lack of intuitive ordering platforms, and a desire to pick out their own fresh foods all contributed to the industry's slow e-commerce growth.
When the pandemic hit and lockdowns began, consumers were forced to rethink their shopping behaviors. Rising concerns about exposure and the desire for contactless experiences led to a major shift in e-commerce demand. During the height of the pandemic, the grocery industry saw 20% to 30% of their business move to online sales with a spike in demand for contactless shopping.
By the end of 2020, as things began to settle into a new normal, the online penetration of the grocery industry was around 9% to 12% — three times what it had been pre-pandemic.
Online Grocery Sales by the Numbers
What was born out of necessity has turned into a steady trend. In 2020, total online grocery sales in the US reached a staggering $106 billion, up over 300% year-over-year. By 2024, online grocery sales are forecast to reach $187.7 billion.
In addition, the demand for grocery delivery is on the rise. The online grocery delivery services market is projected to grow by $800 billion globally from 2020 to 2025.
And while brick-and-mortar traffic is increasing as consumers return to their pre-pandemic behaviors, nearly 50% of consumers surveyed by McKinsey & Company indicated that they plan to buy groceries online at least once a week. These consumers often use online purchasing to stock up or top off their weekly needs, relying on a blend of both in-person and digital shopping to meet their needs. On average, more than half of these consumers spend over $100 per online grocery transaction, making this a lucrative segment of the market for merchants.
Leading the way in online shopping are younger generations. Nearly half of millennials state that they shop for the majority of their groceries online or as much as they do in-store, with this same segment valuing easy shopping experiences, superior customer service, and relevant product selections as key driving forces in where they choose to shop.
While the pandemic may have forced the hand of digital adoption, many who have sampled the experience are now hooked. Fears of old are subsiding, and the new wave of online grocery shopping is here to stay.
What the Future Holds for Grocery Delivery
With projections indicating a strong future for grocery delivery, merchants operating within this sector must take note. It is no longer enough to have a rudimentary digital experience. Consumers are being trained by the largest retail giants to expect a streamlined e-commerce experience backed by exceptional delivery options.
The following are three key takeaways that merchants must consider as they prepare for the future of grocery delivery.
1. A Focus on the Customer Experience
During the pandemic, grocery chains and stand-alone stores that were once hesitant to undergo digital transformation were forced to take on this task overnight. The result is that consumers have more choices now than ever before when it comes to shopping online.
For merchants, this means that the focus must be on improving and optimizing the customer experience. If consumers find a platform difficult to use or see that placing an order for delivery is a cumbersome process, they will simply move on to a competitor.
According to data gleaned by McKinsey & Company, key areas to pay attention to are overall ease of use, including product selection, saved preferences, and order history for reordering, as well as the availability of information, such as stockouts, progress updates, and changes to orders.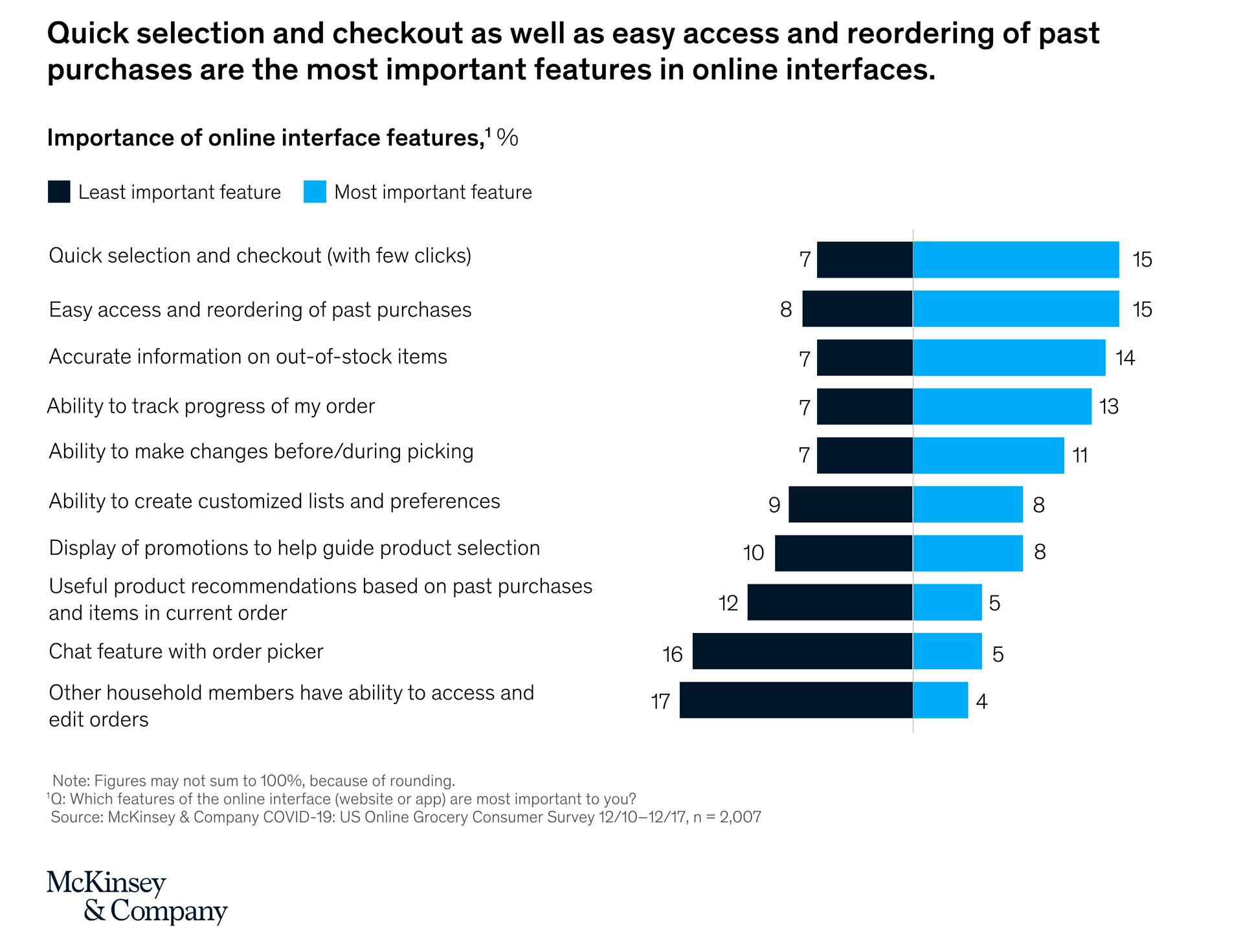 2. Increased Expectations Around Speed of Delivery
Interestingly, while much of the globe had adopted grocery delivery earlier than the US, the expectations around delivery are more stringent within the US than across the globe. For example, France has been primarily a curbside pickup market, accounting for 90% of its total grocery e-commerce, and the UK has been primarily next-day delivery at 90% of total grocery e-commerce.
In the US, grocery delivery expectations are much more demanding. Here, delivery expectations are a mix of instant delivery, same-day delivery, or same-day curbside pickup.
Merchants in the US will need to ensure that they are equipped to meet these delivery expectations before launching an e-commerce initiative. Customers not only assume that they will be provided with fast delivery options, but they want multiple options for order fulfillment paired with a low cost in delivery fees.
3. A Need for Scalability
Realistically, for many grocers, transitioning to a digital model will require the perfect blend of third-party and in-house fulfillment technology. In order to be cost-effective and to deliver on customer expectations, grocers are increasingly relying on gig platforms and outsourced delivery driver models to ensure they can meet the requirements of instant and same-day delivery options.
This transition requires a strategic approach to ensure that customer expectations are met today, and it also requires a focus on scalability for the future. As the demand for grocery delivery increases, merchants must ensure that the fulfillment solutions put into place today will continue to meet their needs years from now.
Taking Control of the Future of Delivery
As the demand for grocery delivery continues to increase and consumers become accustomed to functioning in a digital-first world, it is vital for grocers to take control of their future by implementing the right technology solutions today.
At Ally, we offer a full suite of enterprise-grade software, which allows businesses to find customers, take grocery orders, connect with delivery drivers, and manage payments without paying a penny in commissions. 
Our platform allows you to create a branded experience, which will enhance your online presence. Through Ally, you can build a white-label iOS and Android app, integrate web ordering, configure settings to meet your customers' needs, and design a responsive custom website for easy grocery ordering.
Additionally, our platform makes it easy to incorporate delivery services, connecting you with an incentivized nationwide network of more than 110,000 delivery drivers. We also simplify accepting payments, managing loyalty rewards, and more.
If you are interested in setting up your business to handle digital ordering and delivery fulfillment, we are here to help. Get started today and unlock the potential for growth that offering delivery service can bring.